Welcome
Thank you for your interest in our antistatic agent NEOSTATIC. Below we give an overview of all relevant properties of our antistatic products. An overview of our antistatic agents can be found under the heading Products.
---
NEOSTATIC® – Properties
Suitable for the antistatic treatment of plastics
Special feasibility for inclusion into EPS
Reduces electrostatic charging on plastic surfaces by reducing the surface resistance to 108 – 109 Ohm
Excellent coverage – only 4-6 mg of agent required per m²
Also effective at extremely low air humidity (20% r.h.)
Long-term effect of at least 1 year – on dry plastic surfaces protected against abrasion
Physiologically harmless and therefore approved for foodstuffs packaging (see Sustainability)
Environmentally friendly, biologically degradable into natural substances
---
Products
NEOSTATIC® Antistatic Spray
ready for use, 400 ml spray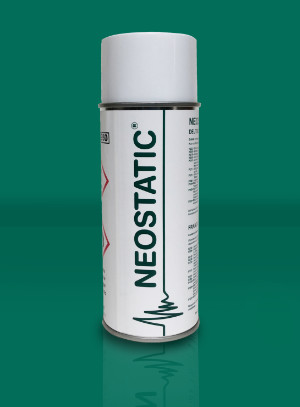 NEOSTATIC® Antistatic HB 155
concentrate, 5 L can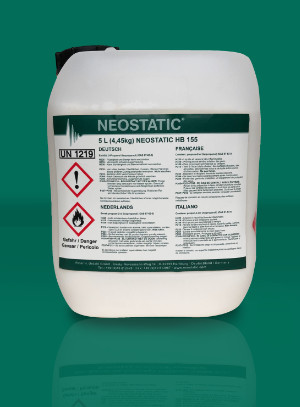 ---
NEOSTATIC® – Applications
Application is carried out by spraying, immersion or roller application with a 1% NEOSTATIC solution in distilled water or in a mixture of distilled water/alcohol. A higher alcohol proportion (max. 20%) produces quicker drying.
For moulding parts of EPS it is possible to provide an anti-static treatment with the
NEOSTATIC method during or after the foaming process. The material is antistatically treated before the last foaming process. The surfaces of the EPS beads are therefore antistatic also on the inside of the finished EPS moulding parts.
Contact with metallic surfaces may result in corrosion damage.
---
Antistatics
Our NEOSTATIC antistatics protect plastic surfaces against electrostatic charging. This consequently reduces the undesirable effects of charging, such as attraction of dust, sparking or the "adhesion" of films, plastic parts and textiles.
---
Application advantages
NEOSTATIC antistatics are already successfully used in the following areas:
When processing with EPS, the internal treatment protects the antistatic effect and maintains it in the long term
Surface-treated plastic panels and films can be deep-drawn without impairing the antistatic effect
For protection of the contents against friction charging
On plastic packaging, to prevent adhesion of dust ("frost patterns") and dirt
For optimisation of printing processes

Good printability and ink adhesion on finished plastic parts (films, bottles, packaging, closures etc.) whose surface has been treated with NEOSTATIC antistatics
Accurate printed images, no "spreading" of the ink due to electrostatic charging
Incorporation into printing inks, e.g. for packaging printing with consistently good label adhesion

Transparency and brilliance of clear PVC and acrylic glass is fully preserved when spraying or cleaning with NEOSTATIC antistatics
No streak formation, even in a film immersion bath
Protects and maintains the pour- and flowability of plastics
Approved as an additive for foodstuffs packaging (see Sustainability)
For antistatic cleaning, as a cleaning agent (e.g. floor coverings, building cleaning, cleaning of plastic doors / frames, etc.)
Further application areas:
For textiles, synthetic fibres and mixed fabrics for process optimisation
For paper and film-coated paper, for improved separation of individual sheets
For exhibition construction, e.g. to preserve the high-gloss appearance of plastics and reduce cleaning requirements
For processing with insulating and filling materials
Chemical products for the graphics industry
For application with paints, synthetic resins, inks and further surface treatments on a plastic basis
We look forward to being able to advise you, and will be happy to help with the realisation of your projects. Contact us here
---
Sustainability
Our laboratory-tested quality with analysis certificate and our production in accordance with the applicable EU directives allow you to incorporate NEOSTATIC HB 155 as an additive in your future production processes.
NEOSTATIC HB 155 is listed in the Commission Regulation (EU) No 10/2011 and is therefore approved as an additive for foodstuffs packaging.
NEOSTATIC HB 155 has been registered in accordance with European Ordinance No. 1907/2006 on the Registration, Evaluation, Authorisation and Restriction of Chemical substances (REACH).
---
Contact
NEOSTATIC®
PETER H. URDAHL GmbH
Grete-Nevermann-Weg 14

D-22559 Hamburg / Germany
Fax: +49 (0)40 81 30 67
Website: www.neostatic.com
Managing Directors: Jan Wappler, York Urdahl
VAT Reg. No.: DE 812843649
Company head office: Hamburg Amtsgericht Hamburg HRB 74452
Platform of the EU Commission regarding online dispute resolution: https://ec.europa.eu/consumers/odr
Site policy (in German and English)
General terms and conditions of business (in German and English)